During the course of 2016, the food bank worked to expand its reach by continuing programs that were successful in 2015. The most exciting news from 2016 is that the food bank has dramatically increased the amount of food raised. In 2016, the food bank raised over 57 tons of food; tripling the total from 2015.
In addition, 30 tons of food were raised locally in Albania compared to just over 13 tons in 2015.
Working with our soup kitchen partners, the food bank has contributed over 6,000 meals and in collaboration with many different agencies has assisted with the response to three different emergencies. All of these are encouraging trends that we hope to continue into 2017!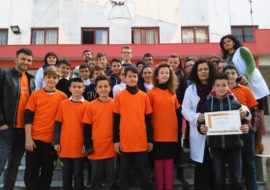 The Schools' Project visited 70 schools in 2016 and reached an estimated 30,000 students. Student food drives account for a significant portion of the food raised in Albania and visiting more schools definitely helps fill the warehouse. In addition, students who are aware of the issues of poverty and hunger in Albania make great volunteers and our supermarket food drives benefit from the enthusiasm and passion of these students.
In conjunction with our international partners, the food bank has continued working on both the seeds project and the winter project. With the Seeds Project, the food bank has distributed 500 packets of seeds that enable families living in remote rural areas that are difficult to serve to grow their own produce. During December, January, February and March, the expanded Winter Project will provide food for 375 families across Albania. These programs make a huge difference in the lives of our beneficiaries and dramatically expand the reach of the food bank.
None of this work would have been possible without the time and effort of our volunteers. This year 280 volunteers gave their time to help with food bank projects, more than double the number of volunteers who contributed in 2015.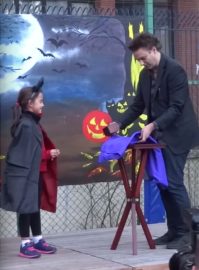 One of the highlights of 2016 has been working with Chris Brent to raise awareness about the food bank. Chris is a magician who has been living in Kosovo and Albania for the last 8 years. He is passionate about fighting hunger and has agreed to donate his time by working as an ambassador for the food bank. Chris has done shows at local schools, visited Korça to do a show for the food bank, and made videos to use on our Food Bank Albania Youtube Channel. Check out our videos page to see how Chris is supporting us – you can learn a few tricks while there too! Also, check out our Food Bank Albania Facebook Page to stay up to date with all our progress.
Here is the message from the Board of Directors to all the people involved in making our work successful: "This particular time-frame still faces large groups of people struggling with poverty and lack of food, while at the same time there is more and more food wasted and thrown away.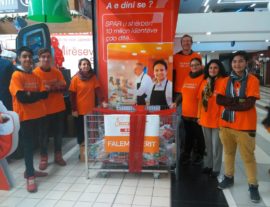 We are most grateful for Food Bank Albania that took up the challenge to fight poverty and food waste, on a  national level. I thank all partners, donors, volunteers and supporters for their efforts which brought  Food Bank Albania to where it is now. And there is still a lot more to achieve, so stay with us!"
You can be involved too. You can donate a package for the people in need or visit our webpage where you will find the list of food items that you can donate, as well as other ways you can support us.