Summer has been busy for Food Bank Albania. Over the winter, we began a seeds project. We distributed quality vegetable seeds to needy families so they could grow their own
crops and provide nutritious and fresh food for their families. Almost 300 families from Korçe, Elbasan and Shkoder received the seeds and planted their crops during the spring. We've been anxiously waiting to see what would happen with this project and now that the growing season is here, we are finally starting to see the results. We are happy to report that the project has been successful; families are just starting to harvest their vegetables and everyone is happy to have additional food on the table. Some of the vegetables are ripe and some others will be ready during autumn.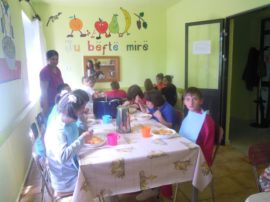 In June, we collaborated with the Tirana Youth Center to conduct a food drive at several EcoMarket stores in Tirana. With the help of our volunteers we were able to collect 487 kilograms of food. Even during the summer months, there are families that struggle to get enough food and the generous donations of shoppers made it possible for us to help 20 families with a basic parcel as well as provide some emergency parcels to more other families.
We've also been working to improve our program with local schools. As in past years, we plan to visit schools across Tirana and encourage students to help us with food drives. This year, to make the project more engaging for students, we are partnering with the magician Chris Brent! Chris is food bank supporter and has offered to do presentations at several of the schools that we will visit. He is also bringing his magical talents to our Facebook page! Be sure to check out his video on our page to learn how your contribution can help the food bank (and to see spoons appear out of thin air). Chris is also helping with some magic tutorials so students can learn their own magic tricks. Keep checking our Facebook page for these tutorials and more!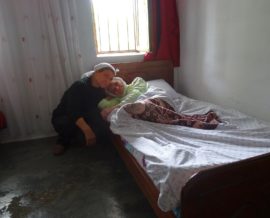 If you would like to get involved, please consider donating food or money to the Food Bank. Our work is only possible because of the generosity of the community. We are always looking for business and community partners in the fight against hunger. Please contact us if you would like to organise a food drive at your office or contribute to the food bank!
In case you're wondering what impact your contribution can have, here is the story of one of the people the food bank has helped this year:
"My name is Entela. My husband and I have four children, between 5 and 12 years old. We live in a single room in very difficult conditions. We do not have jobs. Every day my husband collects cans and bottles from the trash to recycle so we can at least afford bread for our children. Sometimes he uses the money he earns to buy alcohol and then there is nothing for the rest of us. The children and I often go to bed with empty stomachs. It is difficult when we wake up and the children are sick or hungry and cannot go to school or kindergarten. We always look for anything that my husband can bring us or what we can get from the church.
When the Food Bank first brought food to our home it was like a holiday for us. The children rejoiced when they got to eat the marmalade, milk, butter, Nutella, and cookies that they found when they opened the boxes. – God!!! We have never eaten so many meals together. For several weeks I did not have to worry about what I would feed my children or about my children not being able to fall asleep from the hunger pain. I did not quarrel with my husband and our children could go to school and kindergarten with full stomachs. I am very grateful for the help and I want to tell you, thank you with all my heart for these months of joy and peace in my family!"