The first few months of the year have been busy for Food Bank Albania. In March, we completed the last month of food deliveries for the winter project. This project provided food to 250 families for the months of December, January, February and March. Winter is always the hardest time for food insecure families and those struggling to get by and Food Bank Albania is happy to be able to help some of those in need. A woman said that the help that she receives, she shares with other families around her. We are thankful to our partner organizations for helping to identify families and distribute food.
To keep our warehouse full, the Food Bank has conducted several food drives. Throughout winter and spring we visited local schools and asked students to contribute food to help the needy. Over the last several weeks, we have been collecting the contributions of students around Tirana and other cities. One of the Food Bank's main goals is to get Albanian youth involved in the fight against hunger and the food drives are the best way to do that.
On April 9th and 10th the Food Bank conducted a community-wide food drive. With the support of Carrefour and Eco Market, volunteers from Food Bank Albania and the Red Cross were able to collect donations at 13 points throughout Tirana. If you went shopping on either of those days you may have noticed volunteers requesting donations at your local supermarket. The campaign was also done in the cities of Fier, Elbasan, Shkodër and Lushnje. It resulted in almost 2 tons of food donations that will help the Food Bank provide needy families with nutritious meals into summer.
During the month of March, the Food Bank started a Child Sponsorship Programme that aims at reaching about 30 Roma families in the Elbasan area. The goal of the project is to support them so that the little children can attend school.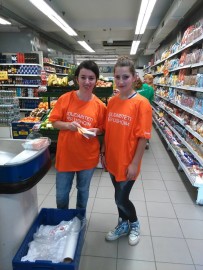 Thank you to everyone who has helped with these efforts – without volunteers, financial support and food donations there wouldn't be a food bank. Your time and contributions are making a difference in the fight against hunger in Albania!