Why do we need a Food Bank?
We hope this email finds you well. Please read our latest newsletter below: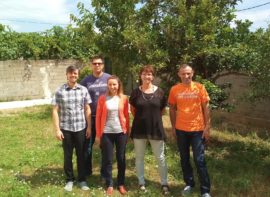 What makes a food bank different from other organisations? After all, all non-profits serve a worthy cause to follow and support. All non-profits work hard for positive change and so why is the food bank different?
Well, based on its social mission and humanitarian efforts, it is not that different. A food bank is just another non-profit that works hard to care for people and the planet. But on the other hand, a central food bank is a vital organization in mostly every country. Food banks allow for the collection and distribution of all donated food across the country. Food banks require massive energy to reach their purposes.
You see, the amount of money invested, the number of volunteers committed, with professionals serving through their skills and passion, is a must for the food bank to thrive. In countries with relatively new food bank operations, only after a commitment from many contributors, the society can see the difference that a food bank makes. It is like a new automotive company that works for years before the first prototype is made.
Let us talk in figures why we need the food bank, and the immediate results of commitment and problems that Food Bank Albania faces in its mission.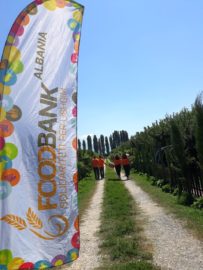 How You Can Help – your contribution makes a difference
If one volunteer commits to help out for six months to the food bank of Albania, it is equivalent of about 3500 kg food raised for the poor. 1 For every month of a volunteer's time, they raise enough food to completely feed 15 people, 3 healthy meals a day for the entire month. Therefore one volunteer's work is multiplied 15 times over, making a huge difference in ending poverty.2
If a professional, whether an accountant, legal advisor, driver, translator, or manager, commits only 4 hours a week to the food bank, it would be equivalent to providing over 270 meals per month to families in need just in the amount of salary cost savings, but also provides an increase in food raised due to the expansion of projects.3
A good accountant could save hundreds of dollars in fines, which could put a huge dent in a small NGO's social reach. A legal advisor could help us pave the path to needed law changes which will greatly increase the amount of donated food we can receive. A driver could help us add 3 additional supermarket points during food drive collections, equaling to several hundred more kilograms of food raised in a single weekend. A translator expands our educational outreach, informing the young generation on the severe effects of food waste, encouraging them to fight for social causes, as well as helping with important documentation.
A donor could provide a meal for a family of 4 (2 adults, 2 children) every day for a month with just 45 Euro.4
These figures are helpful; they show how much the food bank needs helping hands in order to be productive. But think about these other questions that a food bank MUST know, so that we can serve carefully, where the biggest and most urgent need is:
What is the level of food waste in Albania? No studies have ever been undertaken on the specific issue. Based on different studies, the food bank estimates that if we work together and reduce food waste even only 20 % of what it currently is, Albania should be able to feed about 117.000 people.
The World Bank estimates that only one third of the poorest 75.000 families in Albania are helped financially from the state. These 75.000 families make 10 % of the whole population.
How many elderly live below the poverty line? How many children live under the poverty line? What IS the legal accepted poverty line in Albania? Since half of the population is directly connected with the village, what are ways that can boost the rural population's earnings?
Charity work is not that simple after all. We need the figures in order to make our cause known and seen, in order to speak on behalf of those that have no strength of voice in society.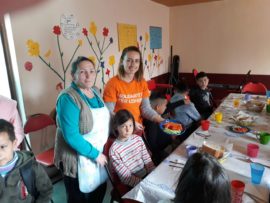 The Fresh Food Project
We are glad to inform you that the Fresh Food Project has been a success. It was started in the end of last year and we have received several thousand kilograms of quality food. Throughout this project, we are able to recover food from going to waste every week. Our volunteers working at the main fresh food market collect food donated from the merchants and then quickly distribute it to up to 10 soup kitchens within the day, half of them in Tirana where the majority of the population lives. The project is active in Tirana and Elbasan and will soon extend into other cities as well. We are glad to see many merchants donate food to the poor. All people have the right to eat healthily and the soup kitchens are the perfect solution for a quick and healthy meal.
The Seeds Project
We are also happy to announce that our Seeds Project this year won the first prize for INNOVATION at the European Food Banks' Federation, FEBA. This project consists of supporting needy farmers with quality seeds that the farmers can use in their land. Many farmers need quality seeds as well as tools to work the land. Sometimes, the food bank cannot easily take a food aid parcel to a family living in a remote rural area. So, we have initiated this project in order to take good quality seeds to the farmers which can support them during the entire year with fresh food produce. One parcel of food is more than enough for a family, and just in the last year, the food bank distributed 500 parcels of seeds. This project is not just giving out food to the poor; it gives a sense of dignity and ownership, since the farmer works on his own land, raising his own food.
Lobbying for a change in the fiscal law for more food donations
Our food supply has grown each year, and the network has now been enlarged with additional state institutions receiving food from the food bank. But our donor businesses are still not able to receive any tax credit for their food supplies to us. The paradox is that on one hand our country has lots of good food that is thrown away and on the other hand we have people in need that cannot access that food. It is easier for companies to throw out surpluses then to donate it to the food bank.
This is a big minus to our work. The cost is social, economic and environmental. Our recent meeting with high officials at the ministry of Finances and Economy only led to another request for more information and at the same time asked for additionally working with the Ministry of Agriculture. We will not be dismayed, but we can't wait to see an ending to our challenge.
An ending note
As the new school year starts, we are more than ready to keep going in our projects. The food bank moved to a new office in June. It offers more storage as well as more meeting space. We have recently purchased a minivan that will serve the needs of the fresh food project and have also prepared well upcoming fall projects in supermarkets and businesses. As we speak, a special fundraising campaign is being organised in cooperation with the Red Cross of Albania; an event that will include main restaurants and hotels in Tirana.
Thank you for reading! In order to stay updated with our news, please follow our Facebook page and visit us at foodbank.al
1 Based on 2016 total food raised of 30450 kg and 2017 total food raised of 26451.5 kg just within Albania with 2 staff and 2 full-time volunteers. The total amount of food raised (excluding importing from outside sources) in an average six-month period based on these last 2 years statistics is 14225 kg, therefore on average 3556kg per full-time staff/volunteer.
2 15 people at 3 meals a day for one month equals 1350 meals. One meal is equivalent to 0.4kg of food. Based on statistic above, a full-time volunteer raises just over 590kg of food a month, equivalent to 1422 meals, just over the amount needed to feed 15 people every meal for the entire month.
3 Based on rate of 1000 ALL per hour for professional services, equal to about 17000 ALL per month of expenses. The cost for 1 meal is 0.5 Euro or about 62 ALL, therefore about 270 meals purchased from 17000 ALL.
4 Based on a 30-day month and a family of 4 with two young children which consume the same amount of food as one adult. Therefore 3 adult meals a day would be needed for a total of 90 meals in the entire month, at a cost of 0.5 Euro per meal equals to about 45 Euro total.