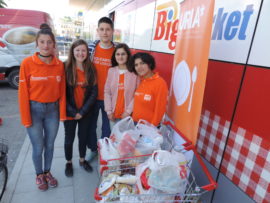 Dear friends, we are happy to bring you the latest news from the Food Bank. Read the updates below on our work to fight food waste and hunger in Albania.
First of all, we have been able to reach many more businesses this year by our online campaign. We have had more donations and have made more friends than ever before.
Also, more food is being distributed to soup kitchens, allowing us to feed many children and adults. It is good to provide basic food such as rice or pasta. However, eating the same food product almost every day may not allow the correct nutritional balance for everyone. This is why we decided to provide the funding for nutritious food for one of these soup kitchens which feeds about 150 children every week. This food will have all the calories that a child needs to thrive every day.
We have also reached agreements with two other NGOs focusing on women in need, such as lone mothers, orphan mothers and women in risk of trafficking. As we continue our selection process of applicant NGOs, we feel the Food Bank can reach even further, to those who are in need the most in Albania. We understand that poverty is everywhere but our goal is to provide for the poorest, those who have less hope and are in remote areas.
On the other hand, we have had a few setbacks too. Despite our continuous efforts for passing changes in the taxes regime for donations, it hasn't happened yet. The recent changes in the Albanian government and the last month's elections have made it impossible for the law to be implemented as of yet. We are blessed with our partners, the Embassy of the Netherlands and Pricewaterhouse Coopers who are helping us by drafting and submitting the changes required and providing the right connections and meetings. We remain very hopeful that in Autumn we will see a breakthrough in these efforts.
 Our first, and so far, most important project, the schools' project is being redesigned now to include other teaching material, food preserving techniques, and more visuals. We believe that the fight against food waste can be won by education first and foremost. We have see that more than 90% of school children are not taught about the environmental aspect of food waste and how easy it is to avoid it. This is why we are stepping up in our focus this year to reach more students than ever before.
We said goodbye to Adrian, our U.S. Peace Corps volunteer who tirelessly worked with us during the past year and a half. At the same time, we have been able to improve our cooperation with U.S. Peace Corps during this time, who have supported us by increasing our capacity as well as in our efforts to be represented in other cities of Albania where we currently don't have activity yet.
If you are one of our volunteers, we would like to thank you for your commitment and energy. Even only 4 hours of your time equals to about 30 kg of food collection, enough food for a small family for a week. Thank you for being part of our journey.
Finally, please make sure you subscribe at our webpage to get our newsletter.