If you would like to subscribe to our future posts, please add your email address on the sidebar below and click the orange button 'Abonohu'.
On February 11 2016, Food Bank Albania hosted a meeting for 13 distributing organizations. It was a great opportunity to get together and evaluate our current programs and the needs of the people that we serve as organizations.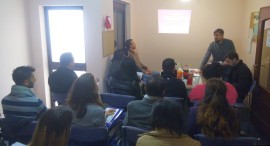 One of the benefits of getting together is the ability to collaborate to address our needs and identify areas where our organizations can work together. Many of the organizations are hoping to expand the number of families and individuals they can reach and would like to receive more food from the food bank. Food Bank Albania believes in this goal and believes that we can dramatically increase the amount of food we distribute by working together to provide volunteers for food drives and expanding the number of supermarket collection points that we offer.
It was a good way to start the year and to meet people who are invested in the fight against poverty! At Food Bank Albania, we have ambitious goals for 2016 and with the help of our partners we are confident that we can reach even more families this year!